Biochemistry

Regular and Co-op
Understanding the complexities of life at a molecular level.
---
Biochemistry is the study of biological processes at the cellular and molecular level. The study of biochemistry showcases the complexity of life.
What's Unique?
--------------------------------------
The Honours B.Sc. major in Biochemistry (BIOC) is offered by the Department of Molecular and Cellular Biology, home to many distinguished biochemists, microbiologists, geneticists, and molecular & cellular biologists. The variety of courses will cover everything from the atomic structure of proteins to the organization of cells in humans, plants, and animals. Undergraduate laboratories will provide you with many practical skills in manipulating and analyzing biological molecules. In your upper years, you will also have the opportunity to access some of the University of Guelph's outstanding research labs and facilities. Our biochemistry program provides you with a degree that is truly interdisciplinary, ensuring that upon graduation you have acquired an expertise and proficiency in great demand by employers.
What Students Are Saying About Biochemistry at Guelph:
---
---
Program Details
Combine practical laboratory training in biochemistry, molecular biology and microbiology with courses in areas such as immunology, enzymology or physiology. Students in biochemistry can focus in the areas plants, nutrition, physiology, immunology or toxicology, just to name a few. Gain real-world experience from co-op work terms and complete an undergraduate research project.
Enzymology
Analytical Biochemistry
Metabolic Processes
Membrane Biochemistry

View full courselist
Admission Requirements
---
80-83%* average, 83 - 87%* average for co-op
English
Advanced Functions
2 courses from12U: Biology, Chemistry, Physics
2 additional 12U or M courses
All three sciences are recommended
*Please note that admission cut-offs stated above is an approximate based on previous years applicant pool. This cut-off range will vary from year-to-year and can be higher or lower based on the applicant pool. Meeting the minimum average does not guarantee an offer of admission. Admisison average is calculated using the six required courses.
---
You can expect to learn how to:
---
Apply thermodynamic principles to the molecular basis of biological energy generation, storage and usage

Conduct research by applying scientific methods and processes and interpreting data to draw appropriate and scientifically based conclusions.

Design and implement experimental procedures using relevant techniques to purify, characterize and quantify metabolites and macromolecules.

Describe how cells are capable of producing almost all required metabolites and macromolecules from diverse precursors.

Understand the relationship between the structure and the functional properties of proteins, nucleic acids, lipids and carbohydrates.
---
Career Options
---
Enjoy challenging careers in medicine and pharmacy, academic research, governmental regulatory work, veterinary sciences, optometry, physiotherapy, non-and-for-profit organizations, or in related business fields. Our biochemistry program provides you with a degree that is truly interdisciplinary, ensuring that upon graduation you have acquired an expertise and proficiency in great demand by employers.
---
Co-Op Options
---
Biochemistry co-op is a four- and half-year program, which includes four work terms. Below is one example of how the academic and work sequence will look for a biochemistry major.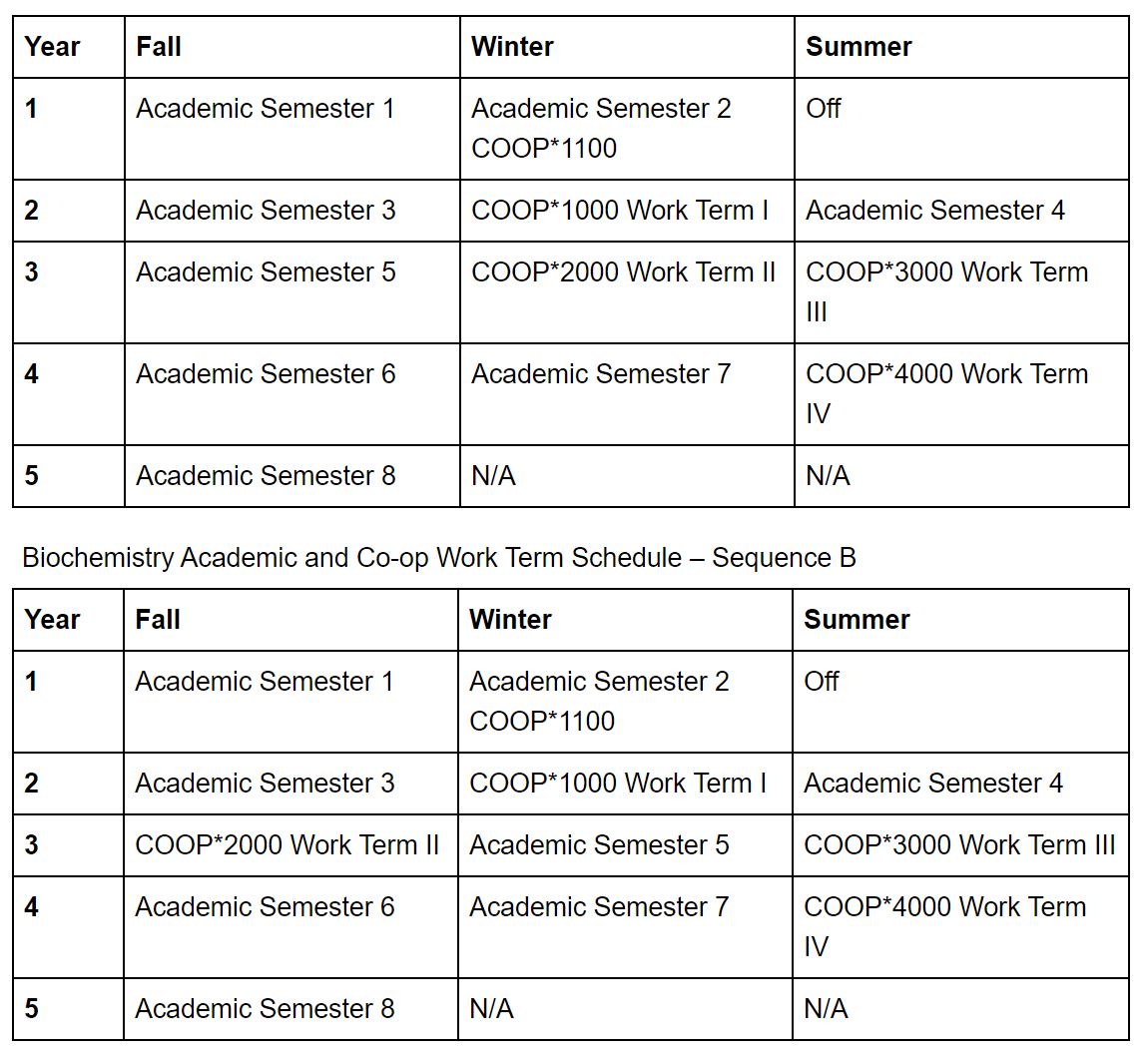 *Please note this sequence may change. The current undergraduate calendar will house the most accurate sequence that students must follow.
Students in this co-op major complete a course, COOP*1100, in the winter semester of first year. This course helps students prepare for their work term by developing professional attitudes and skills for the workplace. This course also provides students with a toolkit of resume and cover letter writing as well as interview skills, which helps students to apply, interview and secure their work term positions
---
What our Alumni are working as:
---
Pharmaceutical Technician | Harvard Medical School

Product Specialist | Johnson & Johnson

Clinical Trials Assistant | Public Health Agency of Canada

College of Biological Science
Have more questions?
---
General Inquiries
Phone: (+1) 519-821-2130
Office Hours: Monday - Friday: 8:30 AM to 4:30 PM
B.Sc. Specific Questions
Email: bscweb@uoguelph.ca
Office Hours: Monday – Friday 8:30 AM – 4:30 PM (closed over lunch)