Chemistry

Regular and Co-op
---
Chemistry involves understanding how molecules behave, as well as making and analysing new molecules with intriguing properties. By studying subject areas in physical, theoretical, analytical, organic and inorganic chemistry, the analytical and practical skills students will gain, coupled with learning in a state-of-the-art facility, will serve them well for career prospects after graduation or preparation for further schooling.
What's Unique?
--------------------------------------
Chemistry at the University of Guelph provides hands-on learning opportunities from first year right through to fourth year. Small class sizes in modern, well-equipped laboratories provide students with a unique learning experience. Internationally renowned, award-winning faculty are always eager to discuss course material one-on-one with students. Learning centres are staffed by teaching assistants to help students with course and lab material.
What Students Are Saying About Chemistry at the University of Guelph:
---
---
"I chose the University of Guelph because I knew about its esteemed reputation as a science based school. The programs the university carries were exactly what I was looking for as a senior in high school. Not to mention the campus is absolutely beautiful. My favourite thing about the University of Guelph has to be the comfortable atmosphere. I love how they make sure your transition into university is as effortlessly as possible, providing you with unlimited amounts of resources and guidance. The faculty at Guelph are also extremely helpful to their students, and the food at the university is the best there is."

Victoria Pham-Tran
Chemistry major
---
Program Details
Students take an integrated MATH and PHYS course in first year along with the chemistry and biology taken by other science students. Second through fourth year, students take courses that provide a high-quality laboratory experience with a focus on organic and inorganic synthesis as well as analytical, physical and theoretical chemistry.
Structure and Bonding
Thermodynamics and Kinetics
Organic Chemistry
Quantum Chemistry
View full courselist
Admission Requirements
---
~80-83%* average, ~83 - 85%* average for co-op option
12U English
Calculus and Vectors
2 courses from: 12U Biology, Chemistry, Physics
2 additional 12U or M courses
All three sciences are recommended
*Please note that admission cut-off stated above is an approximate based on previous years applicant pool. This cut-off range will vary from year-to-year and can be higher or lower based on the applicant pool. Meeting the minimum average does not guarantee an offer of admission. Admissions averages are calculated using the six required courses.
---
You can expect to learn how to:
---
Gather, critically assess, and utilize primary scientific literature to research a topic.
Evaluate the limitations of and troubleshoot experimental approaches.
Demonstrate advanced, contemporary and relevant knowledge in chemistry
Demonstrate knowledge of the environmental, health implications of scientific discovery and technological innovation.
Work safely and effectively in the laboratory to generate reproducible and reliable results
Conduct research effectively and reliably with relevant computational tools and modern chemical instrumentation
---
Career Options
---
Students graduating from this major have established themselves at the forefront of many challenges facing our world today, and have gone on to lead exciting careers and/or pursued their passion for research and science by enrolling in graduate school or other professional programs such as medical or law school.
---
Co-Op Options
---
Chemistry co-op is a four and a half-year program, which includes four work terms. Below is an example of how the academic and work sequence will look for a Chemistry major.*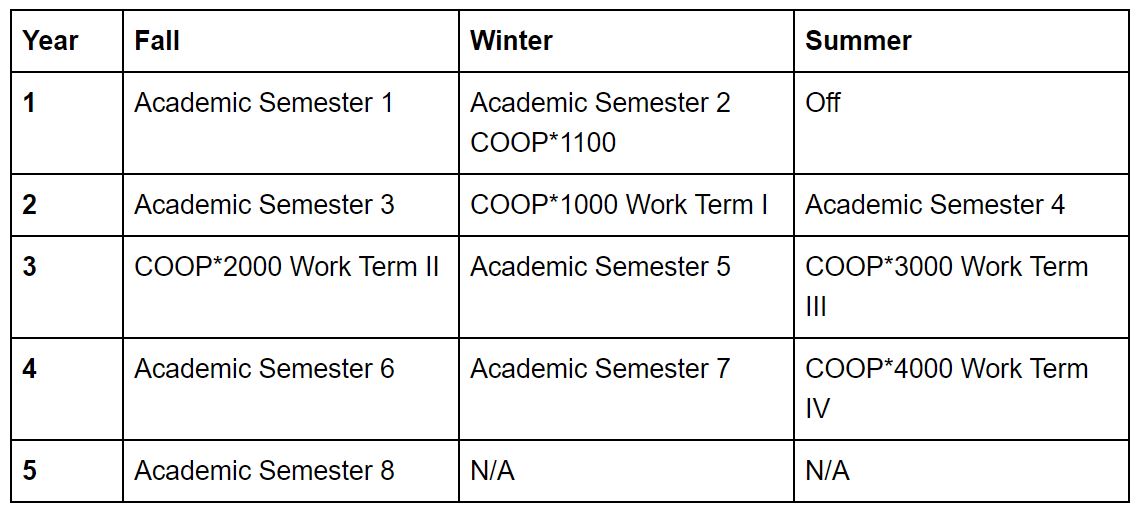 *Please note this sequence may change. The current undergraduate calendar will house the most accurate sequence that students must follow.
COOP*1100 ,taken in the winter of first year, is a course that helps students prepare for their work term, including developing professional attitudes and skills needed to apply to positions. These skills including building a toolkit of resume and cover letter writing as well as interview skills.
---
What our Alumni are working as:
---
Nuclear Waste Manager
Manager in the Aerospace Manufacturing Industry
'Green' Chemical Manufacturer
Semiconductor Design Researcher

Course List

A complete listing of all courses required for this major can be found in the Schedule of Studies located in the undergraduate calendar.
Have more questions?
---
General Inquiries
Phone: (+1) 519-821-2130
Office Hours: Monday - Friday: 8:30 AM to 4:30 PM
B.Sc. Specific Questions
Email: bscweb@uoguelph.ca
Office Hours: Monday – Friday 8:30 AM – 4:30 PM (closed over lunch)