Marine and Freshwater Biology
Regular and Co-op

How can we protect all aquatic life?
---
Marine and Freshwater Biology is the study of all biological and physical processes that occur and support both marine and freshwater systems.
What's Unique?
--------------------------------------
The Honours B.Sc. major in Marine and Freshwater Biology (MFB) is offered by the Department of Integrative Biology. This major focuses on both marine and freshwater ecosystems which is unique within Canada. Students will explore both vertebrates and invertebrates of aquatic systems as well as aquatic plant and micro-organisms key to the health an functioning of an aquatic environment. The University of Guelph Hagen Aqualab, located on campus, allows researchers and students to simulate global aquatic environments and maintain a wide variety of marine and freshwater flora and fauna. This is extremely impactful for upper year students interested in trying research and bringing diverse aquatic environments to campus. This major also offers a co-op option that allows student to apply their classroom experience to a professional setting.
Hear about what our students doing on campus.
---
---
Program Details
In this major, you will build upon core courses in ecology, evolution, genetics, physiology and zoology as you study freshwater and marine environments and work with aquatic organisms experimentally in the field and the lab. You will also look at the ecology of these systems from both biological and physical science perspectives as well as consider management and conservation issues. This major provides students with a breadth of technical skill through their many hands-on lab experiences.
Introduction to Aquatic Environments
Biology of Fishes
Integrative Marine and Freshwater Research
Marine Ecological Processes
View full courselist
Admission Requirements
---
~80-83%* average, 85-90%* average for co-op
12U English
Advanced Functions
2 courses from: 12U Biology, Chemistry, Physics
2 additional 12U or M courses
All three sciences are recommended
*Please note that admission cut-offs stated above is an approximate based on previous years applicant pool. This cut-off range will vary from year-to-year and can be higher or lower based on the applicant pool. Meeting the minimum average does not guarantee an offer of admission. Admissions averages are calculated using the six required courses.
---
You can expect to learn how to:
---
Characterize and integrate the diversity of biological, chemical and physical features that structure (marine and freshwater aquatic environments)
Understand how natural and impacted (aquatic systems) function and interact with other systems.
Collect and assemble biological data and apply mathematical and statistical methods to the interpretation of data to address questions in (aquatic) biology.
Demonstrate an advanced understanding and appreciation of living (aquatic organisms and specimens) in field and/or laboratory settings through "hands on" experience including,

Identify and/or quantify the external and internal characteristics of organisms (e.g. microscopy, physiology)
Collect and handle organisms (e.g. netting, trapping)
Determine the taxonomic affiliation of organisms (e.g. using morphological keys and molecular tools
---
Career Options
---
Prepare for related post-graduate work, and pursue careers in biology, management and conservation, aquaculture, biotechnology, education, and research either in government or the private sector.
---
Co-Op Options
---
Marine and Freshwater Biology co-op is a five-year program, which includes five work terms. Below is an example of how the academic and work sequence will look for a Marine and Freshwater Biology major.*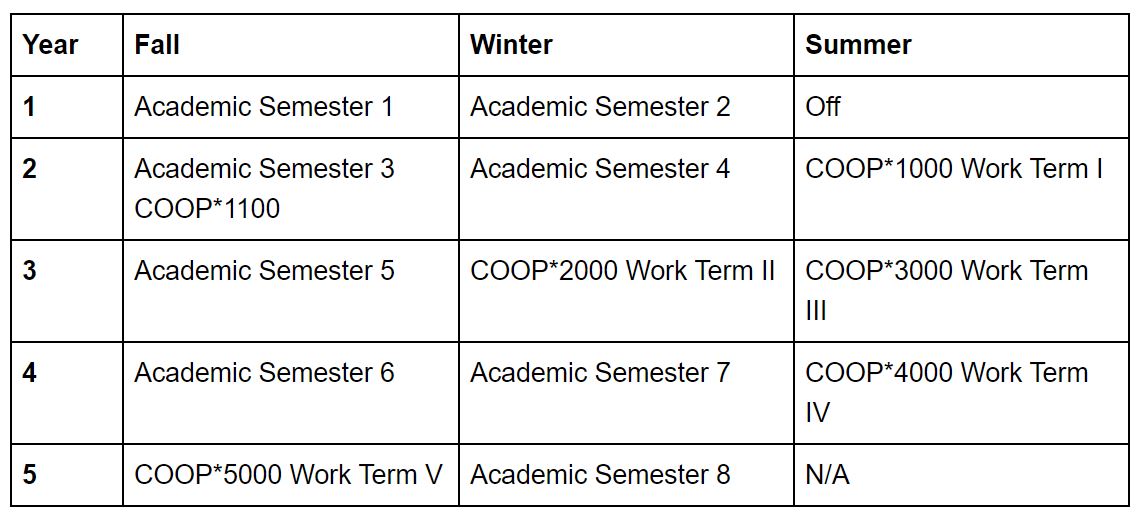 *Please note this sequence may change. The current undergraduate calendar will house the most accurate sequence that students must follow.
Students in this co-op major complete a course, COOP*1100, in the fall semester of second year. This course helps students prepare for their work term by developing professional attitudes and skills for the workplace. This course also provides students with a toolkit of resume and cover letter writing as well as interview skills, which helps students to apply, interview and secure their work term positions
---
What our Alumni are working as:
---
Genomics Lab Supervisor | Rideau Valley Conservation Authority
Marine Ecosystems Scientist | Parks Canada
Freshwater Turtle Field Coordinator | Fisheries and Oceans Canada

College of Biological Science
Research & Faculty

Find out more about the research and faculty involved in the Marine and Freshwater Biology major.
Course List

A complete listing of all courses required for this major can be found in the Schedule of Studies located in the undergraduate calendar.
Have more questions?
---
General Inquiries
Phone: (+1) 519-821-2130
Office Hours: Monday - Friday: 8:30 AM to 4:30 PM
B.Sc. Specific Questions
Email: bscweb@uoguelph.ca
Office Hours: Monday – Friday 8:30 AM – 4:30 PM (closed over lunch)