Microbiology
Regular and Co-op

The who, what, why and how micro-organisms interact and impact the world. Study microbes to improve life.
---
Microbiology involves the study of diverse micro-organisms such as bacteria, viruses and fungi, and their relevance in medicine, biotechnology, food production and the environment. The impact and importance of microbiology has never been more apparent than it is today.
The field of microbiology has application in a variety of fields including:
Medicine, Human Health and Immunology
Global outbreaks of infectious diseases and the rapid rise of drug-resistant microbes necessitate research into the development of new antibiotics and vaccines against these emerging pathogens.

The discovery that the human microbiome (the collection of microbes that live on and in our bodies) plays critical roles in human physiology is opening up new and exciting avenues to improve human health and combat microbial diseases through microbiome manipulation.

Discoveries made from studying the bacterial immunity system CRISPR are revolutionizing treatment of human diseases from cancer to neurodegenerative diseases.
Environment
Microbes inhabit almost all environments on our planet and are central in nutrient cycling. Better understanding of these microbes may offer solutions to mitigate greenhouse gas emissions and to bioremediate soils and water courses polluted with chemicals or plastics.
Agriculture, Food, and Biotechnology
Diverse soil microbes positively interact with plants to promote growth and crop sustainability, while plant pathogens (e.g., viruses and fungi) can cause significant crop damage and losses. Understanding these interactions leads to biotechnological applications to sustain food security.

Microbes such as yeasts and bacteria have been used for centuries in fermentation and food production. With new technologies such as genomics, proteomics and metabolomics it is now possible to determine how the genetics of microorganisms influence the production process, nutrient profiles and flavor characteristics of foods.
Microbes are also model organisms used in the field of synthetic biology, where genetic engineering techniques are harnessed to produce microbes with novel abilities
What's Unique?
--------------------------------------
We are one of the top five Microbiology programs in Canada. The Honours B.Sc. major and B.Sc. major with co-op in Microbiology is offered within the Department of Molecular and Cellular Biology. Microbiology is an inter-disciplinary science that affords students broad training in the areas of Cell Biology, Immunology, Biochemistry, Molecular Biology and Genetics, Bioinformatics and Biotechnology. The program is lab intensive, allowing students to develop hands-on laboratory skills that will be beneficial in their future scientific careers including graduate school. Students in the 4th year of study have the opportunity to take a two consecutive semester research project courses, where they will work in the laboratory of a professor to learn cutting edge techniques applied to exciting areas in Microbiology such as human gut microbiome, bacterial antibiotic resistance, virology and host immunity against pathogens.
Students in the co-op program will gain valuable work experience while earning their degree. Our co-op students typically spend 3 to 4 semesters carrying out work terms for the duration of the degree program. Previous employers of our co-op students include pharmaceutical companies (e.g., Sanofi-Pasteur), hospitals (e.g., Hospital for Sick Children), agri-food and supply companies (e.g., Gay Lea; Escarpment Laboratories), government labs (Agriculture and Agri-food Canada) and academic labs (e.g., University of Guelph and University of British Columbia).
What Students Are Saying About FIrst-year Science at the University of Guelph:
---
---
Program Details
The variety of courses offered in the program cover a broad range of topics such as medical microbiology, infectious diseases, immunology, and antimicrobials, as well as environmental and food microbiology. Undergraduate laboratories will provide you with many practical skills in working with a variety of microbes and analyzing microbial processes at both the cellular and molecular levels. In your upper years, you will also have the opportunity to access some of the University of Guelph's outstanding research labs and facilities through coursework or independant research projects.
Microbial Methods

Microbial Physiology and Genetics

Industrial Microbiology

Virology
View full courselist
Admission Requirements
---
~80-83%* average, 83-85%* average for co-op
12U English
Advanced Functions
2 courses from: 12U Biology, Chemistry, Physics
2 additional 12U or M courses
All three sciences are recommended
*Please note that admission cut-offs stated above is an approximate based on previous years applicant pool. This cut-off range will vary from year-to-year and can be higher or lower based on the applicant pool. Meeting the minimum average does not guarantee an offer of admission. Admissions averages are calculated using the six required courses.
---
You can expect to learn how to:
---
Design and implement experimental procedures using relevant techniques to isolate, characterize and culture microbiological samples.
Evaluate the cellular, genetic and metabolic diversity of microbes, and explain their critical roles in health, disease and the biosphere.
Use microorganisms in industry, biotechnology and as model organisms for scientific discovery linked to real-world applications.
---
Career Options
---
In addition to developing critical thinking and practical microbiological skills, Microbiology and Microbiology co-op major students learn a broad range of molecular biology, genetics, and bioinformatic skills that are highly sought after by employers in both the private sector and academia. This integrated training in biological sciences prepare students for a broad range of careers in science and further education.
---
Co-op Options
---
Microbiology co-op is a five-year program, which includes four work terms. Below is an example of how the academic and work sequence will look for a Microbiology major.*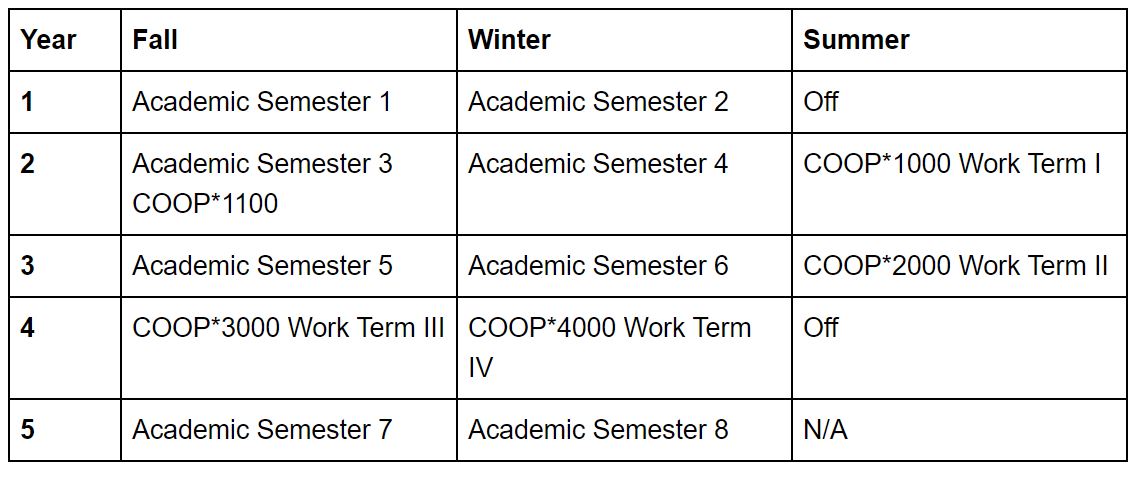 https://www.uoguelph.ca/registrar/calendars/undergraduate/current/c10/c10bsc-micr-c.shtml
*Please note this sequence may change. The current undergraduate calendar will house the most accurate sequence that students must follow.
Students in this co-op major complete a course, COOP*1100, in the fall semester of second year. This course helps students prepare for their work term by developing professional attitudes and skills for the workplace. This course also provides students with a toolkit of resume and cover letter writing as well as interview skills, which helps students to apply, interview and secure their work term positions.
---
What our Alumni are working as:
---
Medical Associate | Ontario Institute of Cancer Research
Pediatric Gastroenterologist | Calgary
Research Technicians | Government and private sector nationally and intenationally
Associate Researcher | Johnson & Johnson
Software Developer | California State University
Bioinformatician/microbiome analyst | University of Oxford, UK
Co-founder | Escarpment Laboratories
Co-founder and Scientist | Renaissance Bioscience
Project manager | University Health Network
Scientists | Nubiyota
Scientific Associate | Princess Margaret Research Institute, Toronto
Scientific sales executive | Raid Novor Inc.
Research analyst | Biodiversity Institute Ontario, Guelph

College of Biological Science
Course List

A complete listing of all courses required for this major can be found in the Schedule of Studies located in the undergraduate calendar.
Have more questions?
---
General Inquiries
Phone: (+1) 519-821-2130
Office Hours: Monday - Friday: 8:30 AM to 4:30 PM
B.Sc. Specific Questions
Email: bscweb@uoguelph.ca
Office Hours: Monday – Friday 8:30 AM – 4:30 PM (closed over lunch)