Microbiology
Regular and Co-op

The who, what, why and how micro-organisms interact and impact the world.
---
Microbiology is the study of organisms invisible to the naked eye. This major explores the diversity of micro-organisms, including bacteria, viruses, archaea, and fungi. Applications of microbiology range from antibiotic development and resistance, to the relevance of the gut micro-flora in diseases, and finally yeast production for beverage and food development.
What's Unique?
--------------------------------------
The Honours B.Sc. major in Microbiology is offered within the Department of Molecular and Cellular Biology. Explore varied topics, from deep sea ecosystems, or the normal microbial inhabitants of the human body, to practical matters of public health. With optional co-op, discover the medical, industrial and environmental impacts of microorganisms and learn about the methods used to study and utilize them for biotechnology or bioremediation.
What Students Are Saying About Microbiology at the University of Guelph:
---
---
Program Details
The variety of courses offered in the program cover a broad range of topics such as medical microbiology, infectious diseases, immunology, and antimicrobials, as well as environmental and food microbiology. Undergraduate laboratories will provide you with many practical skills in working with a variety of microbes and analyzing microbial processes at both the cellular and molecular levels. In your upper years, you will also have the opportunity to access some of the University of Guelph's outstanding research labs and facilities through coursework or independant research projects.
Microbial Methods
Microbial Physiology and Genetics
Industrial Microbiology
Virology
View full courselist
Admission Requirements
---
~80-83%* average, 83-85%* average for co-op
12U English
Advanced Functions
2 courses from: 12U Biology, Chemistry, Physics
2 additional 12U or M courses
All three sciences are recommended
*Please note that admission cut-offs stated above is an approximate based on previous years applicant pool. This cut-off range will vary from year-to-year and can be higher or lower based on the applicant pool. Meeting the minimum average does not guarantee an offer of admission. Admissions averages are calculated using the six required courses.
---
You can expect to learn how to:
---
Integrate the different levels of biological organization, from molecules to cells to organisms.
Describe the metabolic and cellular diversity of microbes, and explain the critical roles of microbes in health, disease and the biosphere.
Describe the use of microorganisms in industry, biotechnology and as model organisms for scientific discovery.
Design and implement experimental procedures using relevant techniques to isolate, characterize and culture microbiological samples.
---
Career Options
---
Our Microbiology program provides you with a degree that is truly interdisciplinary, ensuring that upon graduation you have acquired an expertise and proficiency in great demand by employers.
---
Co-Op Options
---
Microbiology co-op is a five-year program, which includes four work terms. Below is an example of how the academic and work sequence will look for a Microbiology major.*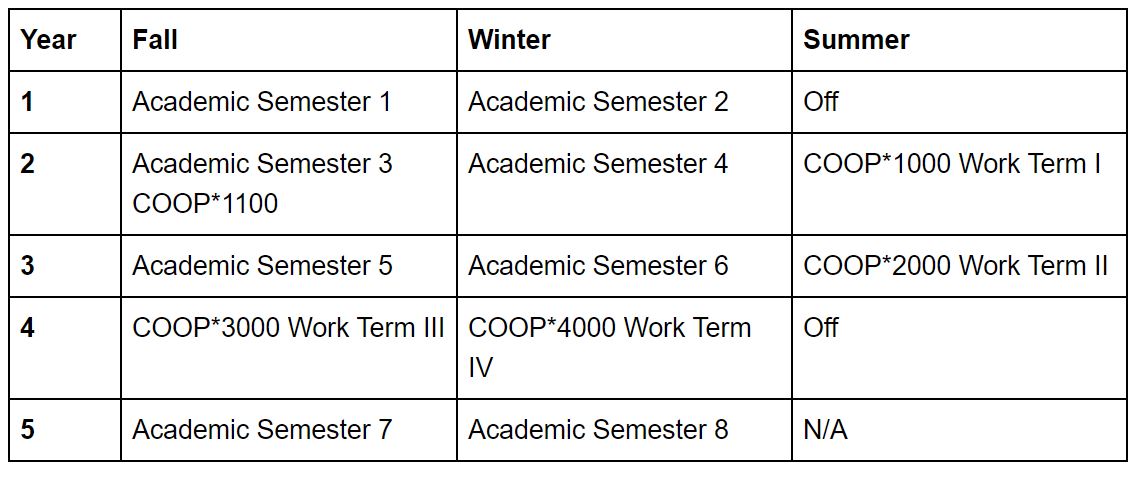 https://www.uoguelph.ca/registrar/calendars/undergraduate/current/c10/c10bsc-micr-c.shtml
*Please note this sequence may change. The current undergraduate calendar will house the most accurate sequence that students must follow.
Students in this co-op major complete a course, COOP*1100, in the fall semester of second year. This course helps students prepare for their work term by developing professional attitudes and skills for the workplace. This course also provides students with a toolkit of resume and cover letter writing as well as interview skills, which helps students to apply, interview and secure their work term positions.
---
What our Alumni are working as:
---
Medical Associate | Ontario Institute of Cancer Research
Associate Researcher | Johnson & Johnson
Software Developer | California State University
Associate Scientist

College of Biological Science
Course List

A complete listing of all courses required for this major can be found in the Schedule of Studies located in the undergraduate calendar.
Have more questions?
---
General Inquiries 
Phone: (+1) 519-821-2130 
Office Hours: Monday - Friday: 8:30am to 4:15pm 
B.Sc. Specific Questions
Email: bscweb@uoguelph.ca 
Office Hours: Monday – Friday 8:30 – 4:00pm