Nanoscience

Regular and Co-op
---
Students can establish themselves and build successful careers in an emerging and fast-growing field: Nanoscience, the science of the very, very small; an inherently multidisciplinary approach that unites chemistry, physics, biology, and mathematics. Understanding the world at the molecular level is increasingly important for the development of many new technologies.
What's Unique?
--------------------------------------
At the University of Guelph, a unique approach has been developed in which fundamental physical science courses are combined with specialized nanoscience courses to provide students with a deep insight into the science of nanostructured materials. A state-of-the-art laboratory experience allows undergraduate students to practice and learn advanced research techniques typically reserved for graduate students.
What Students Are Saying About Nanoscience at Guelph:
---
---
Program Details
In this major, you will focus on the understanding and synthesis of nanoscale materials, in an industry that has been recognized as a revolutionary field of science and technology, comparable to the introduction of electricity, biotechnology, and digital information revolutions. Students take an integrated MATH and PHYS course in first year along with the chemistry and biology taken by other Bachelor of Science students. In second through fourth year, focus on the core nanoscience courses along with chemistry and physics. The nanoscience courses combine aspects from different science disciplines, reinforced and extended by the unique laboratory available where students learn to synthesize nanoparticles and nanostructured materials, and characterize the physical properties of these materials using a wide range of research-grade nanotools.
Admission Requirements
---
~80-83%* average, ~83 - 85% * average for co-op option
12U English
Calculus and Vectors
2 courses from: 12U Biology, Chemistry, Physics
2 additional 12U or M courses
All three sciences are recommended
*Please note that admission cut-offs stated above is an approximate based on previous years applicant pool. This cut-off range will vary from year-to-year and can be higher or lower based on the applicant pool. Meeting the minimum average does not guarantee an offer of admission. Admissions averages are calculated using the six required courses.
---
You can expect to learn how to:
---
Apply scientific methods and processes by formulating questions, designing investigations and synthesizing data to draw conclusions and make scientifically-based decisions.
Generate and interpret scientific data using quantitative, qualitative and analytical methodologies and techniques.
Demonstrate advanced, contemporary and relevant knowledge in the chemistry and physics of materials at the molecular level.
Apply intermediate level mathematics techniques to enhance understanding in the chemistry and physics of materials at the molecular level.
Demonstrate advanced laboratory skills to practically realize concepts in the chemistry and physics of materials at the molecular level, and apply these skills in self-directed learning.
Work safely and effectively in the laboratory to generate reproducible and reliable results.
Apply modern computational techniques to investigate various physical phenomena and demonstrate proficiency in using mathematical software.
---
Career Options
---
Nanoscience graduates have gone on to exciting careers in nanoscience, helping grow an area that is advancing research and playing a major role in industry and consumer products around the world.
---
Co-op
---
Nanoscience co-op is a five year program, which includes five work terms. Below is an example of how the academic and work sequence will look for a Nanoscience major.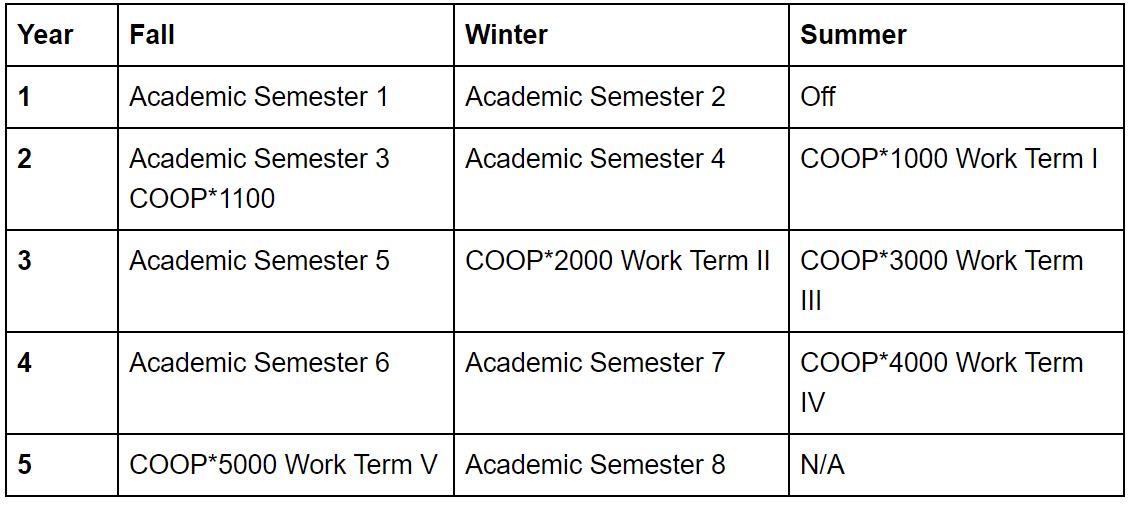 *Please note this sequence may change. The current undergraduate calendar will house the most accurate sequence that students must follow.
Students in this co-op major complete a course, COOP*1100, in the fall semester of second year. This course helps students prepare for their work term by developing professional attitudes and skills for the workplace. This course also provides students with a toolkit of resume and cover letter writing as well as interview skills, which helps students to apply, interview and secure their work term positions..
---
What our Alumni are working as:
---
Nanoparticle toxicologist
Cancer Nanotechnologist
Research Engineer
Nanolithography Process Designer
---

Course List

A complete listing of all courses required for this major can be found in the Schedule of Studies located in the undergraduate calendar.
Have more questions?
---
General Inquiries
Phone: (+1) 519-821-2130
Office Hours: Monday - Friday: 8:30 AM to 4:30 PM
B.Sc. Specific Questions
Email: bscweb@uoguelph.ca
Office Hours: Monday – Friday 8:30 AM – 4:30 PM (closed over lunch)