Biomedical Toxicology

Regular and Co-op
---
Biomedical Toxicology is the study of dose-response relationships in systems related to mammals with the understanding that the "Dose makes the poison".
What's Unique?
--------------------------------------
This interdisciplinary program at the University of Guelph combines studies in biomedical science, chemistry, human health and nutritional sciences, molecular and cellular biology and pathobiology, allowing students to understand mechanisms of toxic action and how to apply toxicological testing to assure the safety of new drugs, pesticides and industrial chemicals before they can be released into the marketplace.
What Students Are Saying About Biomedical Toxicology at the University of Guelph:
---
---
Program Details
In first year, students study the core sciences of biology, chemistry, physics and mathematical science. Second through fourth years are very interdisciplinary and include courses in chemistry, biochemistry, physiology, molecular biology and genetics, nutrition and toxicology. Students take courses that provide a high-quality laboratory experience ranging from analytical and organic chemistry to molecular biology.
All students graduate with exceptional laboratory experience in analytical instrumental laboratories (with instrumentation used in modern analytical, forensic and pharmaceutical labs) as well as molecular biology and biochemistry laboratories.
Analytical Toxicology
Principles of Pharmacology
Medical Toxicology
Toxicological Pathology
View full courselist
Admission Requirements
---
~80-83%* average, 83 - 85%* average for co-op option
English 12U
Advanced Functions
2 courses from12U: Biology, Chemistry, Physics
2 additional 12U or M courses
All three sciences are recommended
*Please note that admission cut-off stated above is an approximate based on previous years applicant pool. This cut-off range will vary from year-to-year and can be higher or lower based on the applicant pool. Meeting the minimum average does not guarantee an offer of admission. Admissions averages are calculated using the six required courses.
---
You can expect to learn how to:
---
Demonstrate a working knowledge of target organ toxicity and the processes involved in absorption, distribution, metabolism and excretion of toxicants.
Apply methods for evaluating the hazards associated with exposure to toxicants.
Demonstrate an understanding of how to measure and quantify the amount of toxic substances in a variety of matrices including drinking water, blood and urine samples.
Demonstrate an understanding of how to analyze and interpret results from a dose/response assay used to measure toxicity.
---
Career Options
---
Enjoy challenging careers in medicine and pharmacy, academic research, governmental regulatory work, veterinary sciences, optometry, physiotherapy, non-and-for-profit organizations, or in related business fields. Our biomedical toxicology program provides you with a degree that is truly interdisciplinary, ensuring that upon graduation you have acquired an expertise and proficiency in great demand by employers.
---
Co-Op Options
---
Biomedical Toxicology co-op is a five-year program, which includes four work terms. Below is an example of how the academic and work sequence will look for a Biomedical Toxicology major.*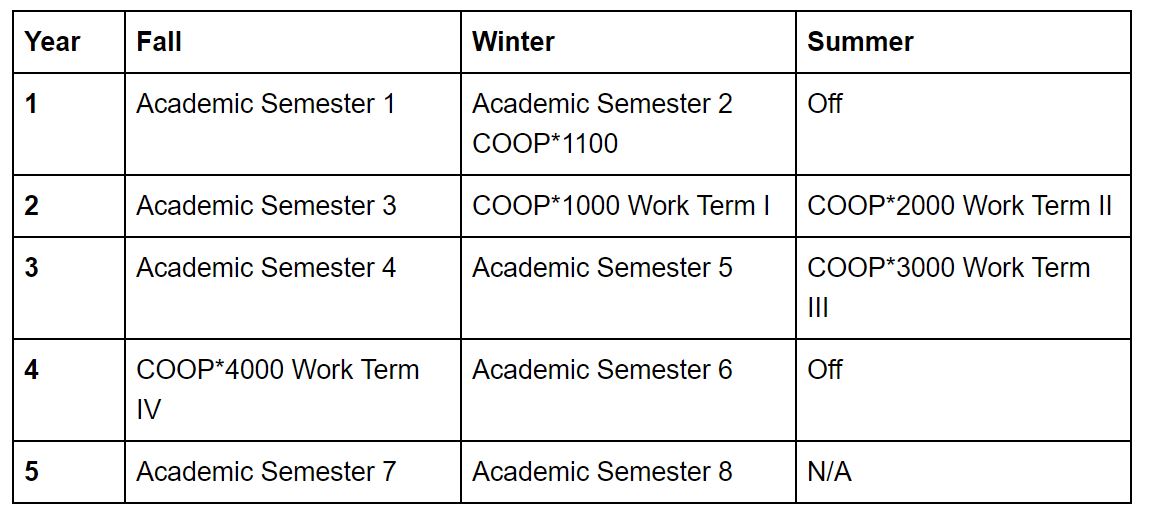 *Please note this sequence may change. The current undergraduate calendar will house the most accurate sequence that students must follow.
Students in this co-op major complete a course, COOP*1100, in the winter semester of first year. This course helps students prepare for their work term by developing professional attitudes and skills for the workplace. This course also provides students with a toolkit of resume and cover letter writing as well as interview skills, which helps students to apply, interview and secure their work term positions
---
What our Alumni are working as:
---
Physician
Food Technologist
Ingredient Tester
Embryologist
Cardiology Faculty
Public Health Inspector

CEPS & CBS

Biomedical Toxicology is a collaborative program, supported by both the College of Biological Science about the College of Engineering and Physical Sciences?
Research & Faculty

Find out more about the research and faculty involved in the Biomedical Toxicology major.
Course List

A complete listing of all courses required for this major can be found in the Schedule of Studies located in the undergraduate calendar.
Have more questions?
---
General Inquiries
Phone: (+1) 519-821-2130
Office Hours: Monday - Friday: 8:30 AM to 4:30 PM
B.Sc. Specific Questions
Email: bscweb@uoguelph.ca
Office Hours: Monday – Friday 8:30 AM – 4:30 PM (closed over lunch)