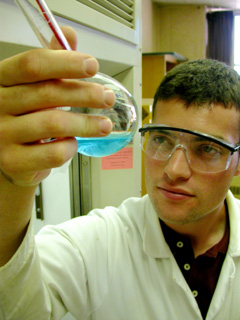 Those who have *not* successfully completed Grade 12 Chemistry (e.g., SCH4U in Ontario) need to complete CHEM 1060 – Introductory Chemistry before proceeding to CHEM 1040.
Course Website
Access regularly!
The CHEM 1040 CourseLink website is accessed through the portal http://courselink.uoguelph.ca [1]. Your username is your Central Login ID (part of your U of G e-mail address before the "@" sign). Your password is your Central Login Account Password. Course access starts Sept. 7, 12:00 AM. Access this site regularly for announcements, assessments and resources.
Course Outline
A course outline provides information about what you can expect from a course and what is expected of you. The Fall 2017 CHEM 1040 course outline can be found on CourseLink under Content >> Course Resources.
Lectures
Lectures begin:
Thursday, Sept. 7 for lecture sections 02 and 03
Friday, Sept. 8 for lecture sections 01 and 04, or
Monday, Sept. 11 for lecture section 05. 
Note:  You can only attend the lecture section for which you are registered.
Labs
CHEM 1040 lab are not scheduled to start until Monday, Sept. 25.
In the meantime, double check your schedule to make sure your three-hour lab period does not overlap with any other courses. If you find a conflict, resolve it immediately through WebAdvisor [2] or contact your Program Counsellor [3]. Note:  The Add Period ends Friday, September 15th, which is the last day to change your registered section. 
Course Materials
1. Textbook:
General Chemistry, D. Ebbing & S. Gammon, Brooks/Cole Cengage Learning.
You can use the 10th, 9th or 8th edition for CHEM 1040 (and CHEM 1050 next semester).
The publisher provides a 10th ed. textbook package that includes a copy of the Student Solutions Manual. This package can be purchased from one of the campus bookstores.
Copies of the 10th edition text and Student Solutions Manual can also be signed out from the Library for 2 hours through the Course Reserves Desk.
2. CHEM 1040 Laboratory Manual and Organic Chemistry Notes:
Can only be purchased from the Chemistry Department.
Chemistry Sales
Summerlee Science Complex (SSC) 2106 - Cash Only
No cheques or credit cards. Exact cash is appreciated.
Time:
9:30 AM – 3:30 PM
Dates:
Thurs., Sept. 7, Fri., Sept. 8 and Mon., Sept 11 through to Wed., Sept. 13
CHEM 1040 Lab Manual: $20.00
CHEM 1040 Organic Notes: $10.00
Goggles: $20.00 (Will fit over most prescription glasses.)
3. Safety goggles: (not safety glasses)
Are required and can be either purchased from the Chemistry Department or the University Bookstore.
4. Lab coats:
Are required. Lab coats with snaps (not buttons) can be purchased from the Chemistry & Biochemistry Club for $20 (cash only sales) in SSC 2111 Sept. 7, 8, 11 & 12, 9:00 AM – 4:00 PM, or until sold out. Sizes from XS to XL are available to try on. Lab coats (with buttons) are sold at the University Bookstore (Sizes XXS – XXL).
 
5. Scientific calculator:
With ln, ex, log10 and 10x functions. Note: Calculators or notebook computers capable of storing text information are not allowed in examinations.
6. Organic/Inorganic Molecular Model Kit:
Will assist in visualising molecular shapes, organic chemistry structures and Dry Lab D exercises. A kit can be purchased from one of the campus bookstores.
7. MasteringChemistry:
You have the option of completing online assignments for grades. If you choose this option, you need to purchase access to a MasteringChemistry account. There is a grace period on payment of 2 weeks, so one can explore the site prior to paying. A 36-month access code can be purchased online through the Mastering site ($66) or through one of the campus bookstores, e.g., University Bookstore is selling access codes for $80.25. W18 CHEM 1050 will also offer optional homework, so your access covers both courses.