PHYS 1080 (Fall 19)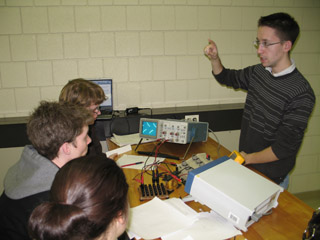 Questions
Questions regarding course related information and administration, please contact: Quiz Room supervisor Cindy Wells, ext. 52445 - SSC (Summerlee Science Complex) Room 1101A email: cwells@uoguelph.ca.
Available on CourseLink
The Course Outline contains all information such as lecture schedule, quiz deadlines, booksale information, course structure and requirements and contact information.
Quiz/Help room operation hours and location.
Book Sale
Cash Only – Quiz Room SSC (Summerlee Science Complex) Room 1101A.
Thur/Fri/Mon/Tues/Wed Sept. 5,6,9,10,11 (9:00 AM - 3:00 PM) after Sept 11th during regular day time Quiz Room hours.
Textbook
PHYS 1070/1080 – Physics for the Biological Sciences 5th ed. available at the university bookstore
PHYS 1080 – Physics for Life Sciences – study guide/lab manual 2018 version ($30.00) available in the Quiz Room
Quiz Room - SSC Room 1101A
Please see this great 2018 YouTube video on how to find the Physics Quiz Room.
Opens for quiz writing (if prepared) as of Thursday, September 5th at 9:00 AM
Photo ID Is Required To Write a Quiz.
Three (3) version attempts are allowed for each quiz if necessary, but only 1 version each day is allowed, so attempt one should be written well in advance of the quiz deadline (see course outline for specific details)
You will require a non-graphing calculator (no other electronic devices are allowed in the Quiz Room, ie., cell phones, laptops, ipads, ipods, etc.).
Labs
PHYS 1080 Labs – (no lab exemptions for previously completed labs)
Electronic lab sign-up is available on CourseLink and it is mandatory to create your personal lab schedule at the start of the semester as these sessions fill quickly. Each lab session is 90 minutes and is sufficient time to collect your data and complete the calculations provided you read over the material prior to attending. You can do these labs in any order and as early as possible but specific labs must be complete prior to attempting the related quiz.