Biological and Medical Physics

Regular and Co-op
---
Biological and Medical Physics leverages physics to help solve complex challenges and opportunities in human health and medical fields.
What's Unique?
--------------------------------------
Many biological and medical problems involve techniques and concepts of physics. Biological physics plays a vital role in human health while medical physics provides the background for clinical tools such as magnetic resonance imaging (MRI) and CAT scans. Students will be uniquely qualified in cutting-edge skills to help solve these challenges and improve health and medical fields. The major has small class sizes to support student learning from internationally renowned, award-winning faculty and researchers. As a result, students graduate with exceptional laboratory experience and this program has a high rate of student award reception and authoring/co-authoring papers in respected physics research journals such as Journal of the Royal Astronomical Society of Canada, Physical Review, and others.
Physics in action at the University of Guelph:
---
---
Program Details 
The biological and medical physics major prepares students for dynamic careers in medical and health fields. Students take an integrated MATH and PHYS course in first year along with the chemistry and biology taken by other Bachelor of Science students. Second through fourth year, students will focus on physics courses and also include mathematics and biochemistry courses, along with courses specific to. biological physics or medical physic streams. Unique to the University of Guelph, students will also take a Science Communications course where they develop activities to help people understand the concepts of physics.
Biophysics of Excitable Cells
Radioactivity and Radiation,
Clinical Applications of Physics
Research in Physics
Admission Requirements
---
80-83%* average, 83 - 85%* average co-op 
12U English
Calculus and Vectors
2 courses from: 12U Biology, Chemistry, Physics
2 additional 12U or M courses.
All three sciences are recommended
*Please note that admission cut-offs stated above is an approximate based on previous years applicant pool. This cut-off range will vary from year-to-year and can be higher or lower based on the applicant pool. Meeting the minimum average does not guarantee an offer of admission. Admissions averages are calculated using the six required courses. 
---
You can expect to learn how to:
---
Demonstrate mastery in advanced Electricity and Magnetism, Mechanics, Thermodynamics and Statistical Mechanics, Optics, and Quantum Mechanics
Apply Intermediate level Mathematics techniques to enhance understanding in the aforementioned major subject areas
Demonstrate advanced laboratory skills in order to practically realize concepts in Electricity & Magnetism, Mechanics, Thermodynamics, Quantum Physics, Optics, Nuclear Physics, Spectroscopy, and Electronics and apply these skills in self-directed learning
Apply modern computational techniques to investigate various physical phenomena and demonstrate proficiency in mathematical software such as Maple, MatLab, and/or Mathematica
---
Career Options
---
Students graduating from this major will be uniquely qualified to make advancements to healthcare and medical fields using physics concepts, providing significant value and opportunity.
---
Co-Op Options
---
Biological and Medical Physics co-op is a five-year program, which includes five work terms. Below is an example of how the academic and work sequence will look for a Biological and Medical Physics major.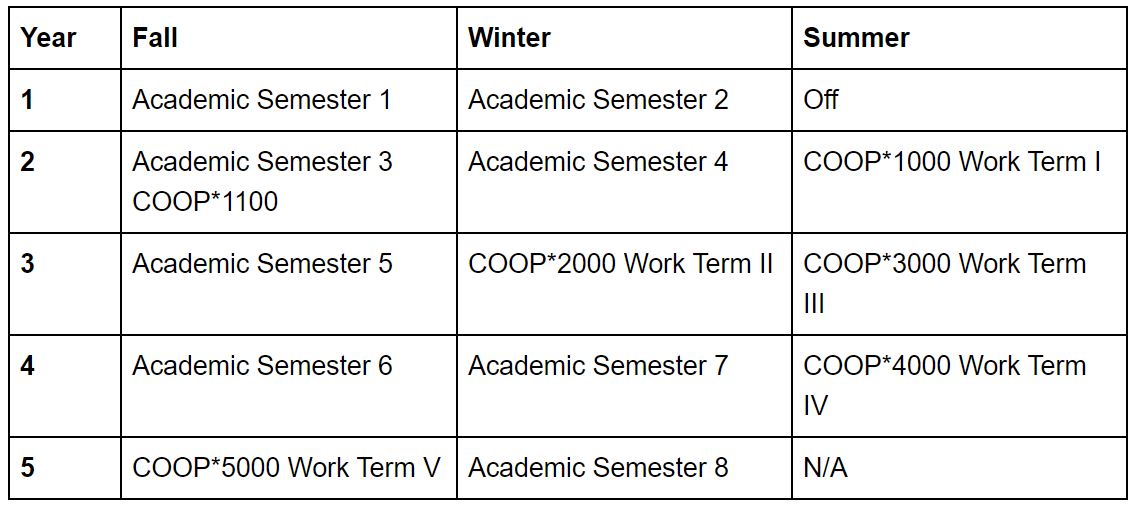 *Please note this sequence may change. The current undergraduate calendar will house the most accurate sequence that students must follow. 
Students in this co-op major complete a course, COOP*1100, in the fall semester of second year.  This course helps students prepare for their work term by developing professional attitudes and skills for the workplace. This course also provides students with a toolkit of resume and cover letter writing as well as interview skills, which helps students to apply, interview and secure their work term positions. 
---
What our Alumni are working as:
---
Laboratory Testing Analyst
Quantitative Analyst
Imaging Software Developer
Health Physicist
Health and Safety Technician

CEPS
 
Biological and Medical Physics is supported by the College of Engineering and Physical Sciences.
Research & Faculty
 
Find out more about the research and faculty involved in the Biological and Medical Physics major.
Course List
 
A complete listing of all courses required for this major can be found in the Schedule of Studies located in the undergraduate calendar.
Have more questions?
---
General Inquiries
Phone: (+1) 519-821-2130
Office Hours: Monday - Friday: 8:30 AM to 4:30 PM
B.Sc. Specific Questions
Email: bscweb@uoguelph.ca
Office Hours: Monday – Friday 8:30 AM – 4:30 PM (closed over lunch)