Environmental Geomatics

Regular and Co-op
---
Environmental Geomatics provides opportunities to study the processes and properties of the biophysical environment. This major includes the development of a core foundation in the analytical techniques, i.e. Geographical Information Science and Remote Sensing, used for their interpretation, analysis and presentation of the biophysical environment.
Whats Unique?
--------------------------------------
Field-based instruction is integrated in core physical geography courses throughout the major starting in the first year and carrying through to senior level capstone and field courses. The geomatics themed courses will emphasize experiential learning opportunities through practical assignments that are rooted in real-world applications of geographic information systems and remote sensing.
Hear from one of our students.
---
---
Program Details
One of the core tenants of the Environmental Geomatics major has been the focus on field -based and experiential learning. Field - based instruction is integrated in core physical geography courses throughout the major. The geomatics themed courses emphasize experiential learning opportunities through practical assignments with applications to geographic information systems and remote sensing. Lectures in these courses lay out key geomatics concepts, which are then reinforced through guided laboratory exercises in which students use state-of-the-science software and data to solve real-world geographical problems. In this way, Environmental Geomatics graduates gain the key skill -sets necessary to gain meaningful employment in the earth science and/or geomatics sectors.
Climate and the Biophysical Environment
Fluvial Processes
GIS and Spatial Analysis
Management of the Biophysical Environment
View full courselist
Admission Requirements
---
~80-83%* average, 83 - 87%* average for co-op
English
Calculus and Vectors
2 courses from: 12U Biology, Chemistry, Physics
2 additional 12U or M courses
All three sciences are recommended
*Please note that admission cut-offs stated above is an approximate based on previous years applicant pool. This cut-off range will vary from year-to-year and can be higher or lower based on the applicant pool. Meeting the minimum average does not guarantee an offer of admission. Admissions averages are calculated using the six required courses.
---
You can expect to learn how to:
---
Analyze the earth as an integrated human -environment system by examining dynamic flows, interactions, and exchanges at different spatial and temporal scales
Reflect critically upon the scope and evolution of the diverse discipline of geography
Recognize, synthesize, and evaluate diverse sources of knowledge, arguments and approaches pertinent to exploring human-environment problems.
Collect and Analyze geographical data and interpret its significance within the context of human-environment relations.
Communicate geographical concepts and data effectively using oral, written and visual forms.
Collaborate effectively as a team leader and member to pursue innovative solutions to human-environment problems
Identify and address geographical questions using creativity and critical thought in diverse
Investigate complex real-world challenges using appropriate concepts, methods and tools from one or more geographical sub-disciplines.
Appreciate and reflect critically on the importance of holistic, integrative human-environment perspectives.
Explain societal relevance of geographical knowledge and apply it to real world human-environment issues
Value respectful, responsible and just community engagement and demonstrate active citizenship when addressing human -environment issues.
---
Career Options
---
Practical experience gained in lab including species identification and classification and field and research courses, combined with knowledge of strategies for conservation at the individual, population and community levels will broaden future opportunities in this field.
Co-op
---
Environmental Geomatics co-op is a five-year program, which includes four work terms. Below is an example of how the academic and work sequence will look for an Environmental Geomatics major.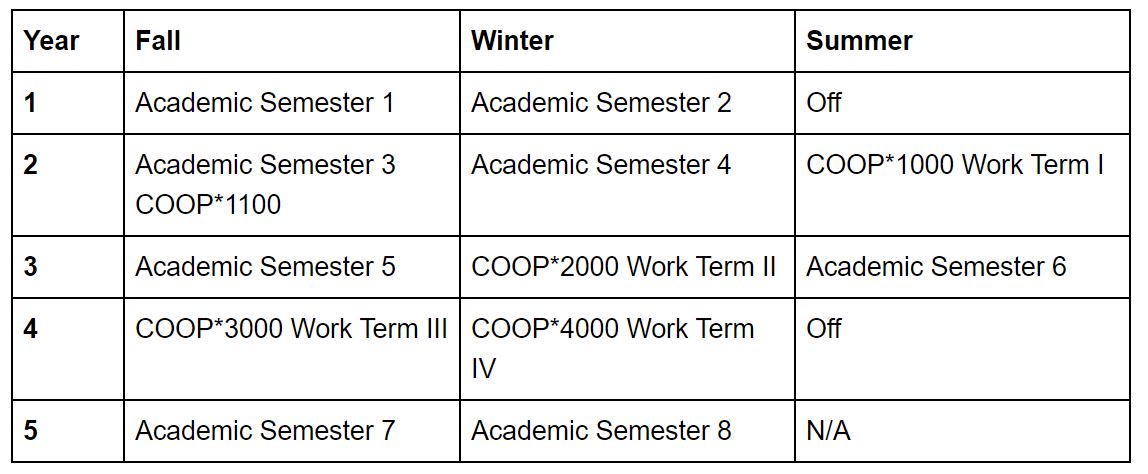 *Please note this sequence may change. The current undergraduate calendar will house the most accurate sequence that students must follow.
COOP*1100, taken in the fall of second year, is a course that helps students prepare for their work term, including developing professional attitudes and skills needed to apply to positions. These skills including building a toolkit of resume and cover letter writing as well as interview skills.
---
What our Alumni are working as:
---
Environmental GIS specialist | Ontario Ministry of the Environment
Restoration Technician | GEO Morphix Ltd
Geochemist | Golder
Field Operations Lead | Concentric Geoscience Inc

College of Social and Applied Human Science
Environmental Geomatics is supported by the College of Social and Applied Human Science.
Research & Faculty

Find out more about the research and faculty involved in the Environmental Geomatics major.
Course List

A complete listing of all courses required for this major can be found in the Schedule of Studies located in the undergraduate calendar.
Have more questions?
---
General Inquiries 
Phone: (+1) 519-821-2130 
Office Hours: Monday - Friday: 8:30am to 4:15pm 
B.Sc. Specific Questions
Email: bscweb@uoguelph.ca 
Office Hours: Monday – Friday 8:30 – 4:00pm