Regular and Co-op
---
Biological and Pharmaceutical Chemistry is a fascinating interdisciplinary area of growth. Located at the interface of chemistry and biology, this discipline brings opportunities to combine the powers of chemistry with exciting developments in biology.
What's Unique?
--------------------------------------
This major combines the University of Guelph's strength in the biological sciences whilst maintaining a strong chemistry-oriented understanding of the molecular basis for biological structure and function. At the University of Guelph, Learning Centres are staffed by teaching assistants to support students in addition to classes sizes in modern, well-equipped laboratories. U of G is well known for the breadth of its biological science programs, and students can avail themselves of the opportunity to take biology courses in a number of areas as part of the Biological and Pharmaceutical Chemistry Program. All students graduate with exceptional laboratory experience in analytical instrumental laboratories and exploring molecular structures with the undergraduate nuclear magnetic resonance (NMR) spectrometer.
What Students Are Saying About Biological and Pharmaceutical Chemistry at the University of Guelph:
---
---
Program Details
Students take an integrated MATH and PHYS course in first year along with the chemistry and biology taken by other science students. Second through fourth year, students take courses that focus on organic synthesis and analytical tools of relevance to both chemistry and biology. The major provides an option in third year to select hands-on training in pharmaceutical analysis, pharmacology and applied toxicology biopharmaceuticals through Seneca College.
U of G and Seneca Collaboration
Biological and Pharmaceutical Chemistry majors will have the option to develop additional hands-on training in pharmaceutical analysis, pharmacology and applied toxicology biopharmaceuticals through a unique partnership with Seneca College. Students can attend Seneca College in Toronto, which has been providing training in the pharmaceutical sciences for more than 35 years, for one semester in third year. This option is ideal for students seeking additional applied experience and who have a strong interest in pharmacy.
Discovering Biodiversity
Pharmacology and Applied Toxicology
Bio-Organic Chemistry
View full courselist
[1]
Admission Requirements
---
~80-83% average, 83 - 85% average co-op option
12U English
Calculus and Vectors
2 courses from: 12U Biology, Chemistry, Physics
2 additional 12U or M courses.
All three sciences are recommended
*Please note that admission cut-offs stated above is an approximate based on previous years applicant pool. This cut-off range will vary from year-to-year and can be higher or lower based on the applicant pool. Meeting the minimum average does not guarantee an offer of admission. Admissions averages are calculated using the six required courses.
---
You can expect to learn how to:
---
Gather, critically assess, and utilize primary scientific literature to research a topic
Evaluate the limitations of and troubleshoot experimental approaches.
Demonstrate advanced, contemporary and relevant knowledge in chemistry
Demonstrate knowledge of the environmental, health implications of scientific discovery and technological innovation.
Work safely and effectively in the laboratory to generate reproducible and reliable results
Conduct research effectively and reliably with relevant computational tools and modern chemical instrumentation
---
Career Options
---
Majoring in Biological and Pharmaceutical Chemistry provides the flexibility to seek opportunities over a wide range of sciences: materials science, metallurgy, nanotechnology, medicine, energy, atmospheric science, pharmaceutical science and drug design, Many graduate have pursued their passion for research and science by enrolling in graduate schools or other professional programs such as medical or law school.
---
Co-Op Options
---
Biological and Pharmaceutical Chemistry co-op is a four and a half-year program, which includes four work terms. Below is an example of how the academic and work sequence will look for a Biological and Pharmaceutical Chemistry major.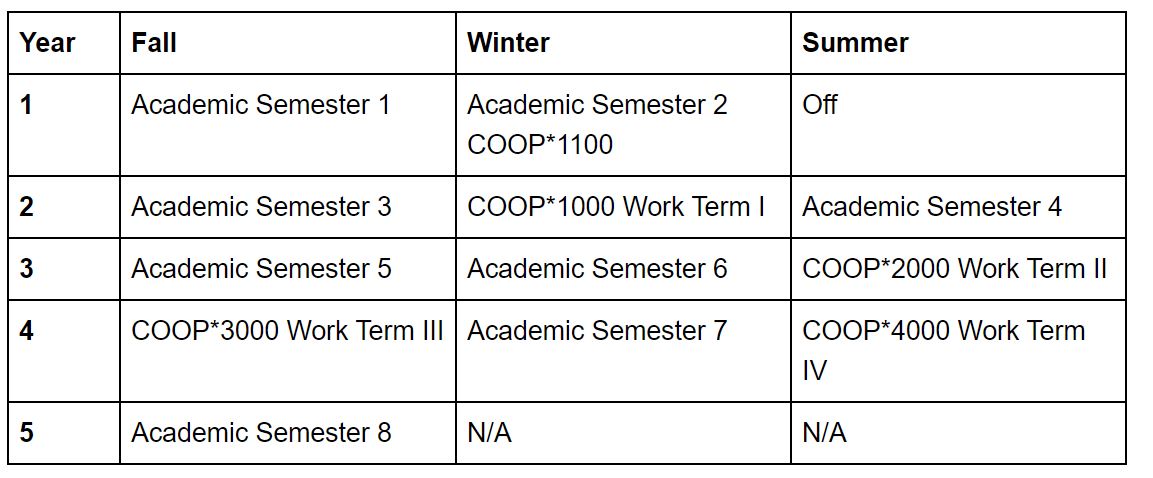 [2]
*Please note this sequence may change. The current undergraduate calendar will house the most accurate sequence that students must follow.
Students in this co-op major complete a course, COOP*1100, in the winter semester of first year. This course helps students prepare for their work term by developing professional attitudes and skills for the workplace. This course also provides students with a toolkit of resume and cover letter writing as well as interview skills, which helps students to apply, interview and secure their work term positions.
---
What our Alumni are working as:
---
Pharmacists
Medicinal Chemistry Researcher
Cosmetics Analyst
Physician
Forensic Chemist

CEPS

Biological and Pharmaceutical Chemistry is supported by the College of Engineering and Physical Sciences.
Explore CEPS [3]
Research & Faculty

Find out more about the research and faculty involved in the Biological and Pharmaceutical Chemistry major.
View Faculty [4]
Course List

A complete listing of all courses required for this major can be found in the Schedule of Studies [5] located in the undergraduate calendar.
View courses [5]