Regular and Co-op

How would you change what we eat?
---
Apply the disciplines of chemistry, engineering, microbiology and physics to the development of safe and healthy foods.
What's Unique?
--------------------------------------
Food is a multi-billion dollar industry that is influenced by changing socio-economic conditions and evolving agricultural and industrial technologies. As a Food Science student, you will apply chemistry, microbiology and physics to study the processing and development of food products and processes. The program also covers aspects of law, health, nutrition, and security as they relate to food safety and quality. You will obtain hands-on experience in the industrial processes such as pasteurization, sterilization, fermentation, and packaging and apply these to commodity groups such as dairy, meats, cereals and beverages. In addition, you will gain experience in sensory evaluation and in the development of new food products and effective food safety and quality assurance programs. Communication skills are also emphasized to help ensure success in your future career.
Hear from one of our students.
---
---
Program Details
In this major, students will explore food processing, food development processes, packaging, quality assurance and safety. Students will not only learn the theory behind product development, but they will also have the opportunity to develop their own food products and engage in the food manufacturing, prototyping, and marketing aspects of food development.
Food Chemistry
Industrial Microbiology
Sensory Evaluation of Food
Food Product Development I and II
View full courselist
[1]
Admission Requirements
---
~80-83%* average, 83 - 87%* average for co-op
12U English
Advanced Functions
2 courses from: 12U Biology, Chemistry, Physics
2 additional 12U or M courses
All three sciences are recommended
*Please note that admission cut-offs stated above is an approximate based on previous years applicant pool. This cut-off range will vary from year-to-year and can be higher or lower based on the applicant pool. Meeting the minimum average does not guarantee an offer of admission. Admissions averages are calculated using the six required courses.
---
You can expect to learn how to:
---
Describe at the molecular and macromolecular structural level the chemical components in foods, the chemical and physical reactions they undergo and the applications of these principles and concepts to food manufacturing and to food spoilage and shelf-life of food products
Describe the important pathogens and spoilage microorganisms in foods, the conditions under which they will grow, and their control and inactivation to produce safe consumer foods
Describe and understand the transport processes, mass and energy balances, unit operations and manufacturing processes common in food preservation and processing and apply them to the unique requirements of various food commodity groups
Describe and understand the roles of food components as human nutrients and the relationship between food and human health
Understand the principles behind and be able to use the laboratory techniques common to basic and applied food chemistry and analysis
Understand the principles behind and be able to use the laboratory techniques common to basic and applied food microbiology
Apply, integrate and incorporate the principles of food chemistry, food microbiology, food engineering/processing and sensory analysis to develop food processes and food products
---
Career Options
---
Practical experience gained in lab provides food science students with key industry skills that allow many of our graduates to have multiple job offers following their undergraduate degree.
---
Co-op
Food Science co-op is a five-year program, which includes four work terms. Below is an example of how the academic and work sequence will look for a Food Science major.*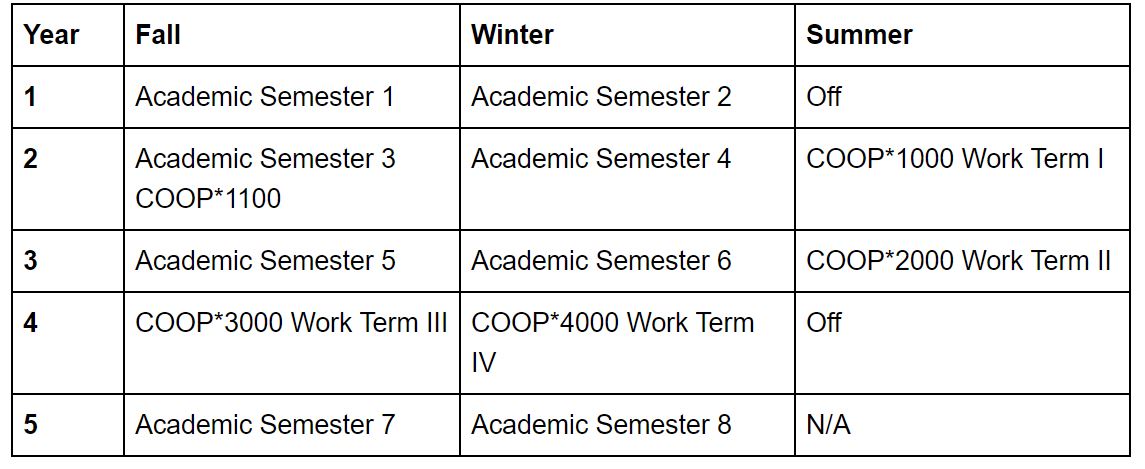 [2]
*Please note this sequence may change. The current undergraduate calendar will house the most accurate sequence that students must follow.
COOP*1100 taken in the fall semester of second year, is a course that helps students prepare for their work term, including developing professional attitudes and skills needed to apply to positions. These skills including building a toolkit of resume and cover letter writing as well as interview skills.
---
What our Alumni are working as:
---
Policy and Program Leader | Canadian Food Inspection Agency
Director of Research | Weston Food
Food Safety and Quality Assurance Professional | Nestle

Ontario Agriculture College
Course List

A complete listing of all courses required for this major can be found in the Schedule of Studies [1] located in the undergraduate calendar.
View courses [5]